Vincent Ames is a (corrupt) Vice President of Vitas Petrol. He was in the contaminated building in the episode "What Lies Below".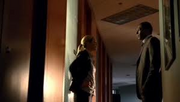 Vincent Ames is one of the first people who tried to help Radjan Vandenkemp when he collapses on the floor. Ames later introduces himself to Olivia as the Vice President of Geotechnical Engineering for Vitas Petrol and asks when he and his people can leave. Ames growing more impatient wants to asks why the police are still holding the people inside the building. Peter explains to Ames and his employees that they are being quarantined because of a virus contamination.
Later Olivia notices that Ames cleared his schedule. She confronts Ames telling him that she knows Vandenkemp was there to see him but not why. Ames reveals Vandenkemp was there to sell him information from a competitor. Ames does not know which competitor it is but says what Vandenkemp wanted to show him was valuable and about a recent oil reserve discovery. They were supposed to meet before any of the staff arrived for work. Ames says he has nothing to do with the outbreak but knows the meeting with Vandenkemp was illegal. He states that he'd rather go to prison than die from the virus.
He was the first to be tested for the deadly virus and pass. He was also in the first group released but not before Olivia promises that she'll be in touch with him about his criminal activities.
"I don't know. He didn't have anything with him. It's a very competitive business, Agent Dunham. I know what I did breaks a dozen Federal laws, but I'd rather go to prison than die here."
Ad blocker interference detected!
Wikia is a free-to-use site that makes money from advertising. We have a modified experience for viewers using ad blockers

Wikia is not accessible if you've made further modifications. Remove the custom ad blocker rule(s) and the page will load as expected.