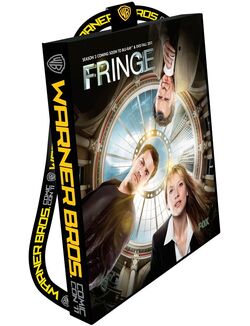 Hey fellow Fringe fans!
Will anyone be attending Comic-Con this year? Fringe will holding its panel on the busiest day of Comic-Con (Saturday) with its cast and producers.
To tempt you even further, Warner Brothers will be giving away some VERY cool Fringe swag bags! In line with the Fringe theme, the bag isn't all that it seems to be: it's also...a backpack! Not only that, but TV Line confirms that there will also be secret alternate-universe bags with a different design of course.
These will be available at check-in so don't dawdle! The alt-universe bags are extremely limited and highly coveted! We won't judge if you prefer Fauxlivia over Olivia bags.
Ad blocker interference detected!
Wikia is a free-to-use site that makes money from advertising. We have a modified experience for viewers using ad blockers

Wikia is not accessible if you've made further modifications. Remove the custom ad blocker rule(s) and the page will load as expected.