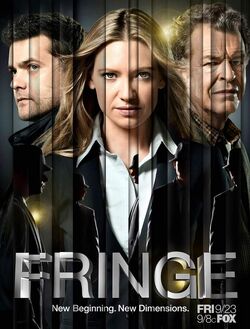 Fringe world(s) as we know it is shattered. It can't be any clearer with this new promo art for Fringe Season 4. After an epic finale in which Peter literally disappeared from both worlds, we can't even imagine how Fringe will progress with this storyline. Can Walter cope without his son? Will Olivia remember?
This amazing promo art shows the three main characters shattered in their own worlds with a few of the Observers hidden in the shadows. What do you think this means, Fringe fans? Speculate away in the comments!
EW just released these phenomenal shots of the Fringe characters in a mysterious setting. Also included is Lincoln, who is now a series regular. What do you make of the bubble portal in the background?
Gallery
Source
Ad blocker interference detected!
Wikia is a free-to-use site that makes money from advertising. We have a modified experience for viewers using ad blockers

Wikia is not accessible if you've made further modifications. Remove the custom ad blocker rule(s) and the page will load as expected.