Transilience Thought Unifier Model-11
Talk

0
1,791pages on
this wiki
"Transilience Thought Unifer Model-11" is the first episode of the fifth season of Fringe.
The year is 2036 and the overpowering Observers rule. The Fringe team - preserved in amber for 20 years - is now a rebel resistance team fighting for freedom. Peter, reunited with his now adult daughter, Etta, sets out to find out what happened to his wife and Etta's mom - Olivia - as they start their mission to save the world from the Observers.
After being recovered by
Henrietta Bishop
,
Peter Bishop
,
Walter Bishop
, and
Astrid Farnsworth
begin to adjust to the Observer-controlled world of 2036. Walter notes that he and the Observer
September
had created a plan prior to the Observers' takeover, but September had fragmented Walter's memory to protect the information. After the Observers' arrival, Walter had
Olivia Dunham
retrieve a device to help restore these memories, but she had disappeared. In the present, they trace Olivia's path, finding a nearby patch of amber, but cut into with several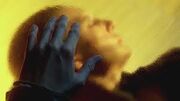 human-sized chunks removed. Etta explains there are "amber gypsies", who cut and sell trapped humans on the black market. They track down Olivia's piece of amber to
Edward Markham
, who had been in love with Olivia since the first time he saw her. While they are retrieving the amber, the Observers, alerted by the black market dealer, arrive. Though they safely escape with Olivia, Walter is captured and taken to a secure Observer facility, where another Observer starts violently
probing Walter's mind. The Observer taunts the fact that there is no music in this future, that nothing will grow from the scorched earth. On continued probing, the Observer discovers the fragmented memories and attempts to obtain the memories by any means possible. Olivia is freed from the amber, and has a tearful reunion with Peter while meeting her grown up daughter for the first time. As they talk, it is revealed that after the Observers' arrival, Peter and Olivia had separated; Peter going to search for Etta who was taken by the Observers, and Olivia in joining Walter in fighting them. Etta takes them to a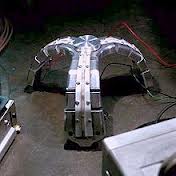 hidden facilities where human resistance members can analyze the device that Olivia had retrieved just before she was ambered, the Transilience Thought Unifier Model-11. They believe the Unifier is capable of restoring Walter's thoughts, though the device appears to be no longer functional. While there, they are able to track Walter's capture to a secured Observer facility. Etta uses her Fringe credentials to break into the facility and recover Walter. The Observers connect Etta to images of a young girl from Walter's mind. Once safe, Walter finds that the Unifier device activates to his touch, but when they try to use it, it fails to find any memories;
Etta suspects that the memories were destroyed, and the plan is lost for good. A despondent Walter tries to sleep but is distracted by reflections from outside, which he traces to a makeshift sculpture from broken CDs. In a bag nearby he finds an undamaged CD and plays it on a car's stereo; he cries as it plays Yazoo's "Only You", the first music he's heard since awaking in 2036. As he mulls emotionally, he spies a single dandelion, growing from the rubble, and cries to himself.
Notable Quotes
Edit
Peter: (sabotaging a machine) It's always the red wire. (nothing happens) Unless it's the white wire.
Walter: We should be on our way by now to find Olivia.
Peter: Nobody wants to find Olivia more than I do, but you're going to need some pants, Walter.
Walter: I'm aware I'm not wearing pants, Peter. I'm not an idiot.
Windmark: You miss music.
Walter: There's not a lot of it here.
Windmark: We tolerate it. But it's merely tones, rhythms, and harmonic vibrations. I don't understand.
Walter: Mostly it amazes me. Music helps you shift perspective, to see things differently if you need to.
Windmark: See things? Like hope?
Walter: Yes. Very much like that.
Windmark: But there is no hope... for you. Nothing grows from scorched earth.
Featured Music
Edit