Unnamed Characters from Episode ("The Same Old Story") :
The Doctor performed a caesarian section on
Loraine Alcott
.
He was played by Ty Jones.
Nina's Assistant
Edit
The Assistant of
Nina Sharp
invited
Olivia
to the office.
She was played by Jacqueline Hendy.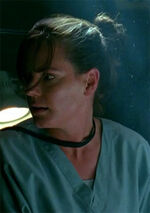 The Nurse was preparing
Loraine Alcott
to deliver the baby.
She was played by Danielle Skraastad.
The Resident witnessed
Loraine's
pain and offered help.
He was played by Jack O'Connell.
Prime Universe Characters

Ad blocker interference detected!
Wikia is a free-to-use site that makes money from advertising. We have a modified experience for viewers using ad blockers

Wikia is not accessible if you've made further modifications. Remove the custom ad blocker rule(s) and the page will load as expected.