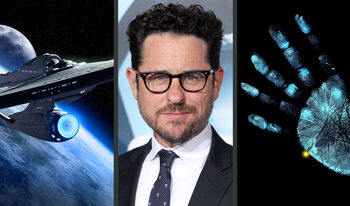 Star Trek is a television and film franchise created by Gene Roddenberry.
Related characters:
Leonard Nimoy played Spock in multiple Star Trek TV shows and he played William Bell in the TV show Fringe.
In the Fringe episode "White Tulip," Peter Weller plays the time traveller Alister Peck. Peter Weller also plays Admiral Marcus in Star Trek into Darkness.
Fringe ConnectionsEdit
In Howard's appearance in "The Road Not Taken" his house address is 1701. 1701 is the serial number for the starship Enterprise.
Howard's character also makes references to the Star Trek characters Spock, Sarek and Khan and to the Romulans and the United Federation of Planets.
In "Bound", David Robert Jones uses a transporter-like device to teleport from Germany to the United States. Olivia says that Jones "Star Trekked" himself.
The concept of an alternate universe was first popularized for TV by Jerome Bixby who wrote the Star Trek episode "Mirror, Mirror." Since that episode, more than a dozen other Star Trek episodes have featured mirror universes or the concept of the multiverse.