Simon Foster
Talk

1
1,791pages on
this wiki
Simon Foster is a Fringe agent, and Resistance fighter, in the future 2036 who was teaming up with Henrietta Bishop to get rid of the Observers.
Biography
Edit
Background
Edit
In 2015 his parents had sent him to Stanford University for college to protect him because they were in the resistance movement against the Observers. Later, Simon's parents were dragged outside their home and killed. Simon knew right away why his parents sent him away when his friend told him to come watch the news while he was in bed with a girl. When returning to the common room, he watched the televised footage and saw what Observers did to people. He was then motivated to get rid of the Observers.
Season Four
Edit
At first a skeptic, he was convinced that the Fringe team was still alive when Etta brought the ambered Walter Bishop to him. He and Etta tried to get remove the other Fringe team members out the amber to get their help destroying the Observers. According to legend, the Fringe team had found a way to permanently expel the Observers from the world.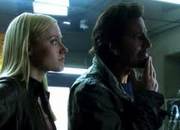 Walter, Etta, and Simon returned to the location of the other Fringe members, but the device that would knock Peter out of the amber before it solidified broke. Simon sacrificed himself by pushing Peter out of the way before the amber hardened. By the time Fringe Division, at this point a puppet of the Observer overlords, arrived at the scene, the Resistance members had fled the area, leaving Simon trapped in amber.
Season Five
Edit
The Observers recovered Simon from the amber and began experimenting on him in their Harvard labs.
Henrietta and Peter discovered his decapitated head hooked up to a machine, blinking and possibly still alive. His final fate is unknown.