This is about Peter Bishop. You maybe are looking for other people named Peter
Peter Bishop is the biological son of Walter Bishop and Elizabeth Bishop.
Biography
Edit
Background Information
Edit
Walter explained the concepts of alternate realities to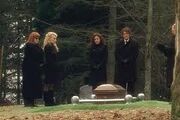 military officials and retrieved information of technological value. Walter spent his time observing Walternate a special machine that looked through to the Alternate Universe, where the other self worked on a cure for Peter's genetic disorder, which is gradually worsening. One day, Walter is told by his wife Elizabeth Bishop to come home and see Peter, with father and son sharing a conversation before Peter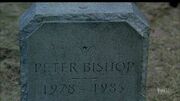 passed away.
"I want you to have it, my lucky silver dollar, if I die it's okay. I'm not scared ..okay. Will you wake me for dinner? I don't wanna miss it".(to Walter Bishop, his last words)
Alternate
Edit
Peter Bishop is a character and a main protagonist on Fringe, the son of Walter Bishop. He is portrayed by Joshua Jackson.
External links
Edit
Ad blocker interference detected!
Wikia is a free-to-use site that makes money from advertising. We have a modified experience for viewers using ad blockers

Wikia is not accessible if you've made further modifications. Remove the custom ad blocker rule(s) and the page will load as expected.