The Encyclopedia Dedicated to Everything Fringe
Joshua Jackson Fronts Campaign To Save Oceans
June 10, 2017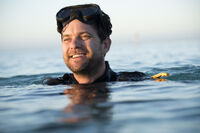 Joshua Jackson has jumped on board a campaign to save the oceans of the world.

Speaking in the video campaign, he said: "The health of the oceans affects all of us. It's amazing how interconnected we all are. When fish populations decline, it really impacts people and marine animals everywhere. Orcas in the Pacific Northwest rely on salmon for food. Fishers around the world feed their families with what they catch or sell. Restoring our oceans helps feed hungry people while supporting vibrant ecosystems. I am excited to work with Oceana so we can save the oceans and help feed the world." Watch video
---
Anna Torv wins Most Outstanding Actress Award
April 23, 2017
Anna Torv took home the award for Most Outstanding Actress this week at the 59th annual TV WEEK Logie Awards in Australia for her role as political correspondent, Harriet Dunkley in the Foxtel Showcase series Secret City. While Torv did not attend the awards ceremony, she did record an acceptance speech.

"Of course I grew up watching the Logies so this is really special and I feel incredibly honored. Thank you so much. There's so many people I want to thank- Chris Uhlmann and Steve Lewis who wrote the book that Secret City was based on. Thank you for your generosity and also for allowing Harry to become Harriet so that I could play her. Foxtel, Brian Walsh and Penny Win, thank you. Matchbox Pictures, Joanna Werner and Penny Chapman thank you so much. And I want to thank Emma Freeman who really did steer this great big ship. That collective and our incredible writers, our outstanding cast and amazing crew came together to create a show that I am so proud of and I'm thrilled to accept this award as a direct result of everyone who worked on the production of Secret City. Thank you." [1] Watch video
---
Anna Torv cast for David Fincher's new Netflix Drama "Mindhunter"
March 08 2016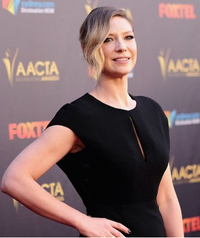 Anna Torv will portray FBI psychologist Wendy in the new Netflix series, set to debut in 2017. The project is based on the 1996 book Mind Hunter: Inside the FBI's Elite Serial Crime Unit by John Douglas and Mark Olshanker. Taking place in 1979, it revolves around two FBI agents who interview serial killers in an effort to help them solve current murders. Torv will also be working with Fight Club alum Holt McCallany (who played the Mechanic).
With Torv familiar with playing an FBI agent and McCallany familiar with Fincher's work, these two together will definitely make Mindhunter a hit. Jonathan Groff, who was recently in HBO's Looking series, was also cast in an unknown role.[2] about the storyline and Torv's return to US television. Read More
---
The end of Fringe is an end of an era
January 18, 2013
Many people may not realize it, but without Fringe there will be no true science fiction left on on U.S. network television for the forseeable future. Freelance writer Graeme McMillan ruminates in Wired about the impact of the show and how it will be missed. Read More
---
Fringe Series Finale Airs Friday at 8:00!
January 13, 2013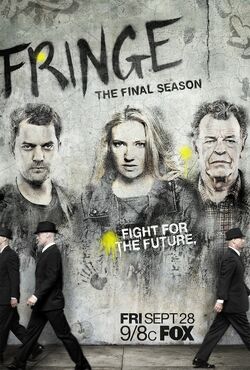 Fringe fans, the day is finally here. A series finale event five seasons in the making airs this Friday, January 18, at 8/7 central. It's a two hour block, so make sure you don't miss the first hour and only tune into the 9:00 episode as is usually scheduled. In the first hour of the two-part series finale, the Fringe team engages a desperate plan as Olivia embarks on a dangerous and otherworldly journey into the unknown. Then, the acclaimed series that has explored the human condition through the prism of parallel universes, unexplainable phenomena and unimaginable threats, reaches a milestone 100th episode and comes to an epic and climatic conclusion. Peter, Olivia, Walter, Astrid and Broyles face off against the Observers in one final and extraordinary battle for the fate of mankind. The five-season saga comes to an epic and emotional end. Make sure you're there at 8:00 or set your DVR. You won't want to miss it. Also, if you haven't already, check out the promo. Be aware that it shows scenes from the finale and could be considered a spoiler. As per Wiki policy, no information from the promo should be posted on this site until after the finale airs. Enjoy the remaining moments of Fringe and thank you for contributing to this Wiki and turning it into what it is! We hope to see your continued involvement long after the finale airs. Watch the Promo
---
Fringe Production Near End!
December 2, 2012 Fringe production will wrap on December 12. The final episode was celebrated at an 100th Episode/Series Wrap party. Producer J.H. Wyman has revealed that the title of the 100th Episode/Series Finale is "An Enemy of Fate." Now the countdown is on. Only 47 more days until Fringe is over for good. Don't miss a moment of it. The farewell season continues this Friday on Fox at 9 pm with "The Human Kind." There are only 6 episodes left. Stay up to date with the show and wiki to ensure you don't miss a second.
---
Fringe Begins All Over Again in Syndication!
November 12, 2012 Now is the perfect time to begin watching Fringe for the first time or start your rewatch as the series winds to a close. The Science Channel, which gained syndication rights to Fringe in May, will begin airing reruns of Fringe starting November 20, 2012 at 8:00 PM with the Pilot! In addition, the Science Channel will air every season one episode on Friday and Saturday! Now's the perfect time to get caught up or simply catch what you missed. Check your local listings. Read More
News in brief & External Links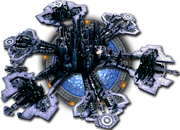 Ad blocker interference detected!
Wikia is a free-to-use site that makes money from advertising. We have a modified experience for viewers using ad blockers

Wikia is not accessible if you've made further modifications. Remove the custom ad blocker rule(s) and the page will load as expected.