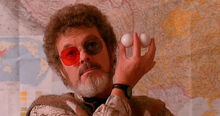 In the episode "The Firefly," Walter Bishop is wearing glasses with a red and a blue lens, just like Dr. Jacoby's from Twin Peaks. Walter then goes on to say that he got them made by an old friend of his named Dr. Jacoby.
Ad blocker interference detected!
Wikia is a free-to-use site that makes money from advertising. We have a modified experience for viewers using ad blockers

Wikia is not accessible if you've made further modifications. Remove the custom ad blocker rule(s) and the page will load as expected.