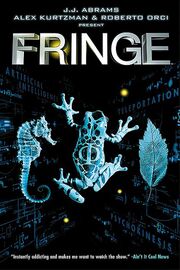 Comics 
are an integral part of the
Fringe
 multiverse. To date, three series of comic books have been created that take place within the 
Fringe 
multiverse. The first series of comic books were released to promote the series in 2008. The second series of comics, "Tales From the Fringe," were released in early 2011 and the most recent comics were released later that year.
Fringe Comics (Volume 1)
Edit
The first series of Fringe comic books were written by Mike Johnson, Alex Katsnelson, Matthew Pitts, Danielle DiSpaltro and Kim Cavyan, with art by Tom Mandrake and Simon Coleby. The series contained six issues that delved into the early history of Fringe in the Prime Universe.
Tales From the Fringe
Edit
The second series of Fringe comic books were written by Alex Katsnelson, Matthew Pitts, and Christine Lavaf with art by Federico Dallocchio, Shawn Moll, Dave Lapham, and Fiona Staples. They continued to delve into the history of Fringe's Prime Universe.
Beyond the Fringe
Edit
Beyond the Fringe is a series of comics that were released in 2011. The series is divided into two parts, Part A and Part B. Part A ties directly into the television show's mythology. The first 3 chapters of Part A focused on the time Peter spent inside The Machine. It serves to bridge the Season Three finale with the Season Four premiere by explaining what happened to Peter and what he witnessed/experienced inside The Machine. In addition to this, these chapters were penned by Joshua Jackson. The B series takes place in alternate universes within the Fringe multiverse, instead exploring "What-If's." They do not relate to the two universes that are shown on the television series. There were twelve individual chapters in the Beyond the Fringe series.
Ad blocker interference detected!
Wikia is a free-to-use site that makes money from advertising. We have a modified experience for viewers using ad blockers

Wikia is not accessible if you've made further modifications. Remove the custom ad blocker rule(s) and the page will load as expected.