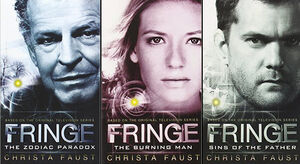 The following books are all considered to be canon to the series of Fringe. The three tie-in novels serve as prequels, detailing the life of the three main characters of 
Fringe 
before the television series begins. Each tie-in book has been penned by Christa Faust, though there was assistance from the team behind Fringe.
September 's Notebook was written by Tara Bennett and Paul Terry. It functions as a companion book, complete with art and new insights into the Fringe mythology.
Tie-In Novels
Edit
Other Books
Edit
Ad blocker interference detected!
Wikia is a free-to-use site that makes money from advertising. We have a modified experience for viewers using ad blockers

Wikia is not accessible if you've made further modifications. Remove the custom ad blocker rule(s) and the page will load as expected.